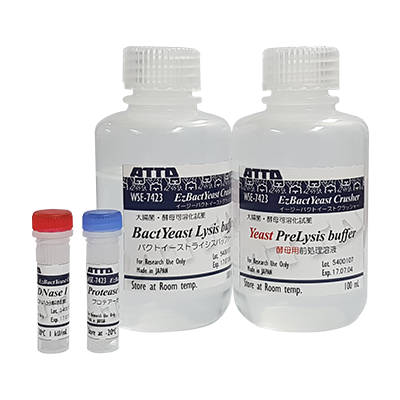 Protein extracting from Yeast & Bacteria for various experiments

Immunoprecipitation

Enzyme activity experiments

Electrophoresis

Western blotting etc.
Simple operation
(Mix reagent with bacterial cell, and then leave it→Centrifuge→Collect the supernatant)
Complete to prepare within 30 minutes
Glass beads, Homogenizer, Ultrasonic crushing apparatus are

 

unnecessary
Absence of enzyme inhibition
Attached with DNase, Protease inhibitor
NOT include Amine
Absence of inhibition of column purification (His, GST etc.)
Sample is available. Please request the sample through the "Contact Us" menu at the top.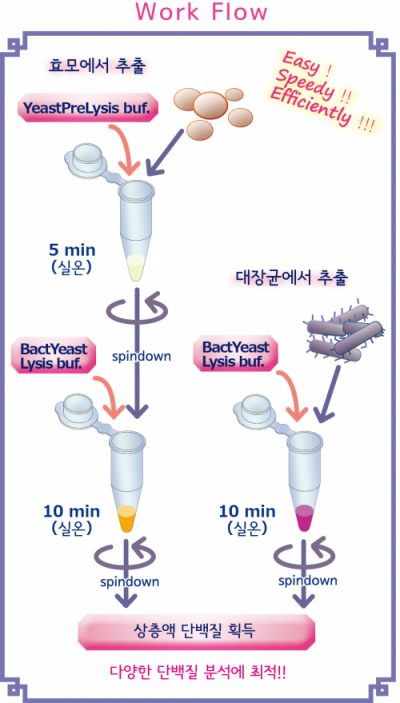 WSE-7423 EzBactYeastCrusher
Package
Yeast PreLysis buffer: 100 mL
BactYeastLysis buffer: 100 mL
Protease inhibitor (100X): 1 mL
DNase (100X): 1 mL
Applicable amount
100 samples, 50~100 mg/sample
Storage
Yeast PreLysis buffer, BactYeastLysis buffer: 1 year at room temperature
Protease inhibitor, DNase: 1 year at -20℃
| Code No. | Description | Unit |
| --- | --- | --- |
| 2332339 | WSE-7423 EzBactYeastCrusher | 1 pk |