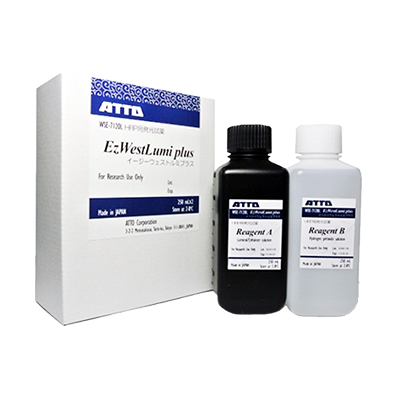 EzWestLumi is a chemiluminescent substrate to detect horseradish peroxidase (HRP) on western blotting membrane
A luminol substrate for chemiluminescent detection of horseradish peroxidase (HRP)
High signal intensity and sensitivity
Wide dynamic range is suitable for detection of various concentrations of protein
Fast luminescent reaction allows to detect signals immediately
Economy; good cost performance
A sample is available. Please request the sample through the "Contact Us" menu at the top.

Protein band signal can be detected in short time with EzWestLumi plus.
WSE-7120S EzWestLumi plus
WSE-7120L EzWestLumi plus
Major components
Reagent A: Luminol/Enhancer solution
Reagent B: Hydrogen peroxide solution
Package
50 mL/each bottle
250 mL/each bottle
Preparation
Mix solutions A and B in a ratio of 1:1
Storage
1 year at 4℃ (unopened)
| Code No. | Description | Unit |
| --- | --- | --- |
| 2332637 | WSE-7120S EzWestLumi plus | 1 pk |
| 2332638 | WSE-7120L EzWestLumi plus | 1 pk |