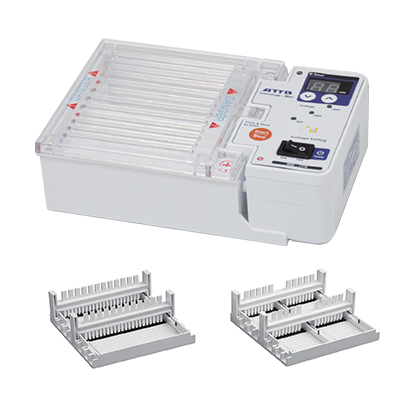 Agarose gel electrophoresis system for DNA

Analysis of PCR-amplified fragments

Separation of nucleic acids
Hi-Speed(High voltage150V) electrophoresis available、alarm timer function
50V, 100V, 150V, constant voltage
Timer setting 0~99 min (0min: Free, time finishing with alarmed)
Safety: open cover error with alarmed. (LED shows E1 with alarmed)
buffer approx. 200 mL
Gel tray L size 2pcs, S size 4pcs
UV transparent gel tray
Combs for muti-channel pipet
3mm, 5.8mm double edged comb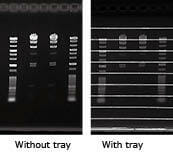 Lines on gel tray are emitted by excitation light(UV). These lines help to confirm the migration distance of each band.
※「Mupid 2plus」's tray is applicable but 「Mupid exU」's tray is unavailable.
Tips for Agarose Gel Electrophoresis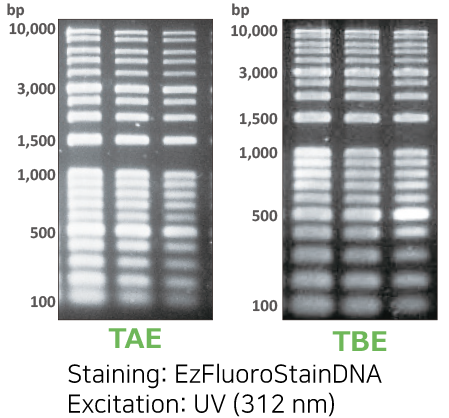 The type of buffers used in agarose gel electrophoresis can be determined by the size of the DNA fragment and the content of the post-migration experiment.
If you want to isolate large DNA greater than or equal to 15,000 bp, use the TAE buffer. Use a TBE buffer if you don't want to extract DNA or don't care about recovery rates after migration with smaller DNA of 1,000 bp or less.
The above diagram shows the results of an EzDNA Ladder applied to a 1.5% agarose gel using EzRunTAE or EzRunTBE buffers and electrophoresis at 150V for 20 minutes using a Submerge-Mini. As you can see, the TAE buffer is suitable for polymer separation and the TBE buffer is suitable for low molecular separation.
WSE-1710 Submerge-Mini
Gel tray size
S: 54 (W) x 60 (H) mm, L: 110 (W) x 60 (H) mm
Sample comb
Well: 3 mm / 5.8 mm double edged comb, 1 mm thickness, multi-pipet applicable
S: 18-well (9-well x 2) / 10-well (5-well x 2), L: 22-well / 12-well
Buffer volume
200~230 mL
Power
Input: AC100-120 V, 50/60 Hz
Output: DC50V / DC100V / DC150V, 40W
Timer
1~99 min (0 min: continuous), shows left time
Display
LED (Hour, min, shows End Time, Cover open error E1)
Safety
Open cover error (E1 displayed with alarmed)
Dimension
190 (W) x 130 (D) x 60 (H) mm
Weight
0.45 kg
Component
Main unit (Electrophoresis chamber, with power supply unit and safety cover) 1 set, Gel casting kit S (Gel making stand S 1 ea, Gel tray S 4 ea, Comb S 2 ea, for 4 small gel) 1 set, Gel casting kit L (Gel making stand 1 ea, Gel tray L 2 ea, Comb L 2 ea, for 2 large gel) 1 set, Power cable 1 ea
| Code No. | Description | Unit |
| --- | --- | --- |
| 2322100 | WSE-1710 Submerge-Mini | 1 set |
| 2322109 | Gel Casting kit S & L set (Gel making stand S 1 ea, Gel tray S 4 ea, Comb S 2 ea, Gel making tray L 1 ea, Gel tray L 2 ea, Comb L 2 ea, for 4 small gel and 2 large gel) | 1 set |
| 2322108 | Gel casting kit L (Gel making stand L 1 ea, Gel tray L 2 ea, Comb L 2 ea, for 2 large gel) for WSE-1710 | 1 set |
| 2322107 | Gel casting kit S (Gel making stand S 1 ea, Gel tray S 4 ea, Comb S 2 ea, for 4 small gel) for WSE-1710 | 1 set |
| 2322113 | Comb L for WSE-1710, 2 ea | 1 set |
| 2322112 | Gel tray L for WSE-1710, 2 ea | 1 set |
| 2322111 | Gel making stand L for WSE-1710 | 1 ea |
| 2322118 | Comb S for WSE-1710, 2 ea | 1 set |
| 2322117 | Gel tray S for WSE-1710, 4 ea | 1 set |
| 2322116 | Gel making stand S for WSE-1710 | 1 ea |