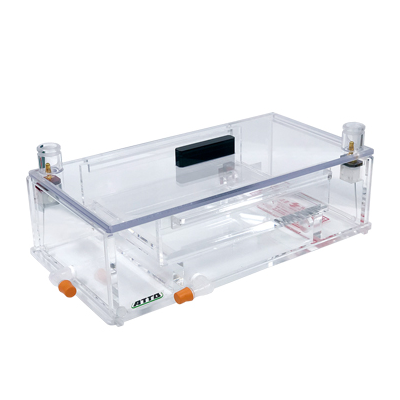 For separation of nucleic acids as well as analysis of PCR-amplified fragments.
Easy-to-use size, small/middle sized electrophoresis chamber
UV light transmission gel rack
Groove from which gel does not slip out is furnished.
New shaped sample comb produces sharp band images, and No. of double blade type specimens/band width are selectable.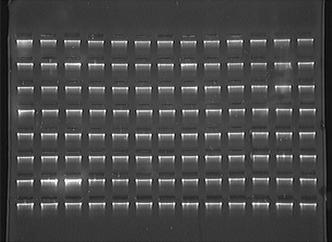 Maximum 182 samples electrophoresis (7 sets of comb, optional)
| | AE-6111 Agarose EP Kit |
| --- | --- |
| Gel size | 120 (W) x 160 (H) mm, thickness up to 8 mm |
| Comb | 1 mm 26-well / 13-well double teeth comb (well width: 3 and 6 mm) |
| Buffer volume | 700 ~ 1,200 mL (According to gel thickness) |
| Buffer circulation | Available to connect external circulator |
| Material | Ultraviolet-transmissive hard Acrylic (Transmission: 80% / 300 nm), except platinum for electrodes, polycarbonate for safety cover, polypropylene for combs, silicone rubber for dams and drain tube, neoprene rubber for buffer inlet and outlet stoppers |
| Dimension | 286 (W) x 150 (D) x 83 (H) mm |
| Weight | 1.5 kg |
| Component | Migration tank 1 ea, Safety cover 1 ea, gel tray 1 ea, comb 1 ea, dam 2 ea, comb stand with screws 1 ea, nozzle cap 2 ea, hexagon wrench 1 ea, safety lead wires with caps and screws in red and black 1 ea |
| Code No. | Description | Unit |
| --- | --- | --- |
| 2322178 | AE-6111 Agarose EP Kit | 1 set |
| 2328441 | Safety lead wires with caps and screws | 1 ea |
| 2393382 | Gel tray for AE-6111 | 1 ea |
| 2393383 | 1 mm 26-well/13-well double teeth comb | 1 ea |
| 2393384 | Comb stand with screws (120 mm wide) | 1 ea |
| 2393385 | Dam for AE-6111, 2 ea | 1 set |
| 2393330 | Nozzle cap for AE-6111, 2 ea | 1 set |
| 2393092 | Tube (φ11-7 mm) 1 m | 1 ea |