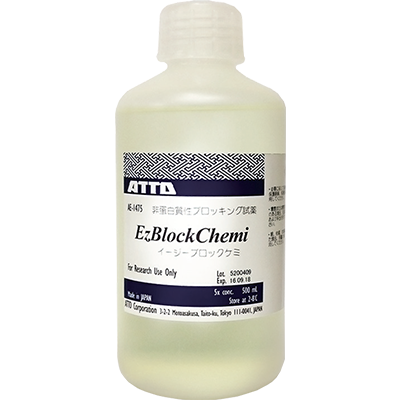 High-speed electrophoresis 20-25min (For high-speed electrophoresis, use with [WSE-7065 EzRunMOPS])
SDS-PAGE(SDS-Polyacrylamide Gel Electrophoresis)
Native-PAGE
High-resolution separation of protein and nucleic acid
Purity determination, Estimation of purified product and expressed protein
Screening
For beginners of electrophoresis and students training
mini PAGE system with a built-in power supply
High mode
Reduce working space
Automatic polarity switching function
Quick sealing method
Prevent leakage of buffer solution with flexible material in a special wave shape; electrophoresis plate and gel are firmly retained
Two-sided constant temperature by using lower buffer solution for reducing the thermostatic smailing
A sample is available. Please request the sample through the "Contact Us" menu at the top.
Comparison of blocking efficiency between EzBlock Chemi and skim milk
Blocking efficiency of EzBlock Chemi is better than skim milk.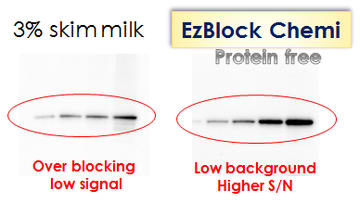 Time dependency of blocking reaction with EzBlock Chemi
Blocking efficiency of EzBlock Chemi depends on incubation time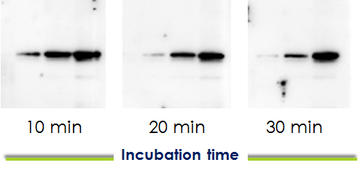 Blocking Solution Selection Guide

| | AE-1475 EzBlock Chemi |
| --- | --- |
| Major components | Tris buffer, blocking agent |
| Package | 500 mL/bottle (5x concentration) |
| Preparation | Dilute 5 times with distilled water |
| Storage | 2 year at cold storage |
| Code No. | Description | Unit |
| --- | --- | --- |
| 2332615 | AE-1475 EzBlock Chemi | 1 pk |