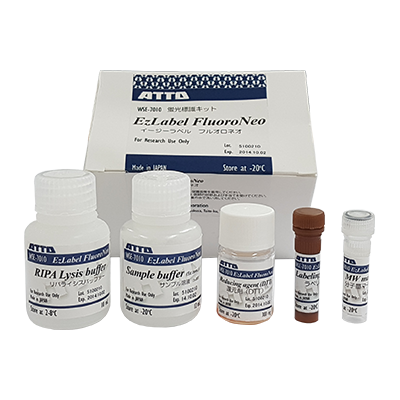 Visualization of electrophoresis pattern with stain FREE
Protein sample preparation for SDS-PAGE
Fluorescent labeling for protein and polypeptide
Protein electrophoresis (1D, 2D-PAGE)
Immunoprecipitation, etc.
Immediate visualization protein bands after electrophoresis
Protein fluorescence is emitted by BlueLED or UV excitation light
[Ex: 330 (UV), 470 nm, Em: 530 nm]
Stain FREE, Saving time, Unnecessary for liquid waste disposal
Hardly to detect any differences in protein band mobility
Observable the gel with Blue LED without removing glass plate gel holder
Observed gel is available for western blotting and protein fluorescence is kept after transfer on membrane
Observed gel is available for CBB staining and silver staining
Kit includes RIPA Lysis Buffer (free amine buffer), MW marker
A sample is available. Please request the sample through the "Contact Us" menu at the top.
Western blotting with EzLabel FluoroNeo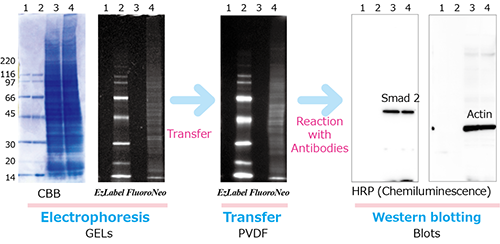 Lane 1: Non-labeled MW marker
Lane 2: Labeled MW marker
Lane 3: Non-labeled HepG2 extract protein
Lane 4: Labeled HepG2 extract protein
After blotting, transferred proteins on membrane can be detected by excitation light.
Continuously process of western blotting reaction can be proceeded.
WSE-7010 EzLabel FluoroNeo
Components
Sample buffer (5x): 12 mL
Labeling reagent: 10 mg
Reducing agent (DTT): 300 mg
MW marker: 600 μL
RIPA Lysis buffer: 10 mL
Storage
1 year at -20℃
Applicable amount
2,000 samples, 20 μL/sample
| Code No. | Description | Unit |
| --- | --- | --- |
| 2332333 | WSE-7010 EzLabel FluroNeo | 1 pk |