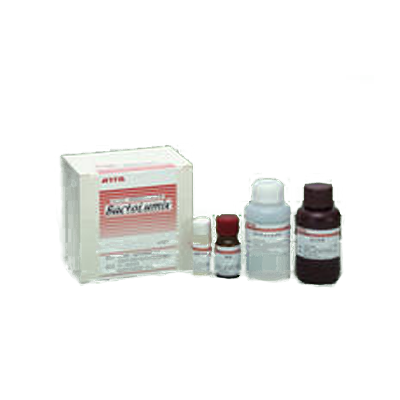 Antibiotic activity testdrug sensitivity test
Bactolumix can be used for drug susceptibility test and antibacterial activity test. The use of chemiluminescence for microbial count rapidly provides the result.

The measurement takes 5 to 20 seconds per sample.

The results are more rapidly available than the smear method.

No need for bacteriolysis for measurement, which makes procedures easier than the ATP method.

The same viable bacteria can be reused in another assay system.

It can be detected up to 3 x 10⁴ to 108/mL of microbes.
Almost the same performance as the ATP method.
AB-2960 BactoLumix
Major components
CL reagent
Buffer for Dissolution of CL reagent
Catalyst
Buffer for Dilution of catalyst
Powder Medium for Microbial culture
Package
1000 assay
Storage period
1 year at 4℃
| Code No. | Description | Unit |
| --- | --- | --- |
| 3512020 | AB-2960 BactoLumix | 1 pk |