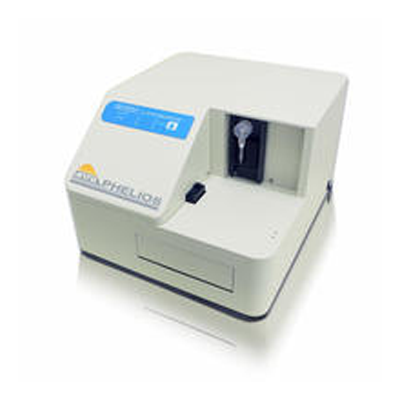 Single, Dual and Triple Reporter assay
Transcriptional factor activity,
Gene expression (Transfection, RNAi, etc)
ATP assay
Autophagy
High-sensitivity Immunoassay
Antioxidant activity
Suitable fora all luminescence-based assays with flush and glow reaction, including single and dual assay applications.
Easy operation with user-friendly menu-driven software.
Advanced, Photomultiplier tube based photon counting system.
One built-in Automatic reagent injector.
Temperature Control (Optional)
Data printed out for hard copy or saved and transferred to PC.
Simultaneous measurement of two or more genes through multi-color luciferase (Color Separation Mechanism).
Multi Reporter Assay,  Dual Reporter gene Assay, Reporter Assay, ATP Assay.
AB-2350 PHELIOS
Sample format
96-well / 384-well plate
Detector
Photomultiplier (PMT), Photon counting methods
Spectral range
350 ~ 670 nm
Filters
F0: no filter, F1: 560 nm LP, F2: 600 nm LP
Color separation
Up to three luminescence colors can be separated with automatic filter change mechanism
Injectors
Built-in plunger type
96 well: 20 ~ 250 μL
384-well: 20 ~100 μL
Additional pump system (optional, available for only 96-well plate)
Temperature control
[Ambient + 5℃] ~ 40℃
Counting times
96-well: 1 ~1,200 sec
384-well: 1 ~ 600 sec
Power
100V 50/60Hz 300W
Dimension
398 (W) x 460 (D) x 286 (H) mm
Weight
16.5 kg
Components
PHELIOS (Built in one pump), Control software (for Windows), USB cable, AC cable
| Code No. | Description | Unit |
| --- | --- | --- |
| 3511140 | AB-2350 PHELIOS | 1 set |
| 3511150 | AB-2020M PHELIOS (Phelios equipped with dual pump system) | 1 ea |
| 3511068 | Single-side fitting tube 1 ea + double-side fitting tube 1 ea | 1 set |