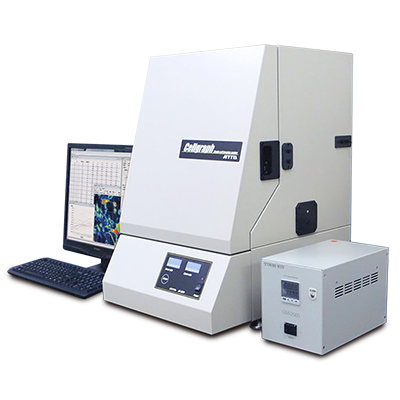 Real-time reporter gene assay
Transcriptional factor activity, Clock gene (chronopharmacology). Gene expression (Transfection,RNAi,etc)
Analysis of cell responses
  Drug response(Anti-cancer drug,DDS,etc),Stress response (Hormone,Inflammation,Anti-Oxidant), Cytotoxichology
Analysis of signal pathway
Signal cascade (Calcium), Apoptosis, etc
Acquire images of culturing cells or tissue samples on a 35 mm dish in the living state.
Provide a CO₂

 

incubator equivalent atmosphere by controlling the temperature, CO₂

 

gas concentration, and humidifying.
Highly sensitive and accurate detection of faint bioluminescence with an EM-CCD camera.
Isolates and captures multicolor faint bioluminescence.
Easy operation via a user-friendly interface.
Full control from a PC with dedicated software.
Completely lightproof, compact design.
Bioluminescence imaging of a brain tissue slice containing the mouse hypothalamus superachiasmatic nucleus (SCN)
Using the Cellgraph system, a brain tissue slice from a transgenic mouse that expresses luciferase under the control of the clock gene promoter was analyzed. The Brain was removed and sectioned into 100 µm thick slices using a Microslicer, each of which was then placed in a culture insert. The time-lapse images of an SCN section acquired over a period of five days using the Cellgraph system. Using the grid measurement function of "Cellgraph Viewer", the bioluminescence intensity in each area was analyzed and quantified. 
Time-lapse imaging of intracellular trafficking of importin α
Visualization of nucleocytoplasmic shuttling of importin α by the Cellgraph system. In this study, the importin α gene fused with luciferase was expressed in NIH3T3 cells. The time-lapse images were acquired using three minutes of exposure time at intervals of four minutes with a 40x objective lens without binning. The luminescence signal was initially detected in the cytosol, then in the nucleus. After that, the luminescence signal in the nucleus gradually increased. As shown above, the Cellgraph system is an ideal tool for observing biological events such as the trafficking of proteins that occur over a prolonged period of time.
Reference: Y. Nakajima, PLoS One, 5(4), e10011 (2010) [PubMed]
AB-3000B Cellgraph
Cooled CCD camera
CCD type: Back-illuminated EMCCD
Active pixel: 512 x 512 pixel
Pixel size: 16 x 16 μm
AD resolution 14 / 16 bit
Cooling temperature
-80℃ with an air-cooling system when the room temperature is 25℃
-90℃ with a water-cooling system (optional)
CCD camera water-cooling unit (optional)
Constant-temperature water circulating system, heat-resistant tube for circulation
Objective Lens
4 x (NA 0.53) (Other magnification lenses are also available as optional accessories)
Objective lens (optional)
2 x, 10 x, 20 x, 40 x, 60 x
Stage
X-Y-Z axis manual stage, Z-axis motorized stage
Culture dish
35 mm culture dish
CO₂ gas injection unit (optional)
CO₂ gas-mixer
CO₂ gas humidifying unit (optional)
Bubbling system for gas humidification
Perfusion culture chamber unit (optional)
Chamber for perfusion
Constant temperature function
(Room temperature +5℃) to 45℃, 0.1℃ step
Lighting
White LED with dimming function Blue LED with dimming function
Optical filter
Up to three filters can be set (525LP / 560 LP / 620 LP are standard equipment)
Exposure time
30 milliseconds to 90 minutes
Imaging interval
Indefinite
Control software
OS: Windows 7 / Vista / XP
System requirement
RAM: 1GB or more (512 MB or more for XP)
Hard drive: 30GB or more free disk space required
Interface: Full size PC slot x 1, serial port x 1, USB port x 1
Power (main body)
AC 100-240 V 106VA (varies according to the components of the whole system)
Dimension
400 (W) x 450 (D) x 700 (H) mm
Weight
Approx. 40 kg (Cellgraph main body only)
| Code No. | Description | Unit |
| --- | --- | --- |
| 3600000 | AB-3000B Cellgraph | 1 set |
| 3600100 | CCD camera water-cooling unit | 1 set |
| 3600110 | CO₂ gas injection unit | 1 set |