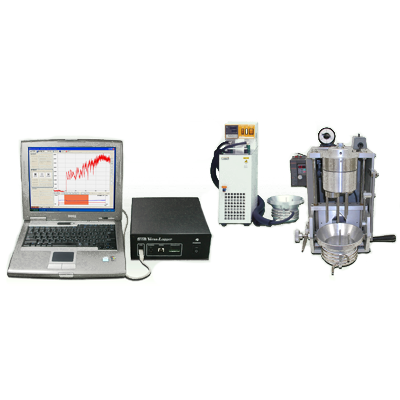 Versa-Logger is a mixing monitor system which visualizes that rheological change of various foods, such as bread dough, whipped cream, or cake batter, or chemical products, etc., by probing change of the mixer power consumption during mixing/whipping process.
Easily installed with simply connecting the mixer power cable to the equipment
Measuring effective power consumed by the mixer – resulting mixing curve visualizes the mixing process and rheological change of the sample
Calculates moving average, Curve width (Max-min), Differential of the curve, etc.
Overlays up to 4 measurements on the display
Baseline/background of power can be corrected by an idle operation before and after measurement
Can choose a 100V or 200V model for a variety of mixers, from a desktop type to a large one.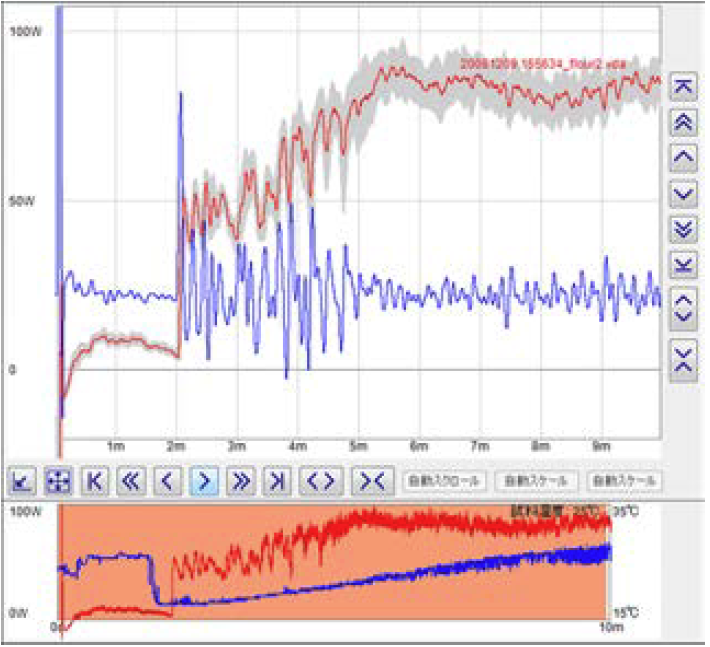 Mixing curve of bread dough with a 100V mixer – showing dough development
Top: The main graph shows the moving average of mixing power (Red line), the width of the curve (Gray area), and first differential (Blue line). Mixing power varies on dough development.
Bottom: Subgraph shows whole trend of mixing power (Red) and temperature (Blue)
AF-1700 Versa-Logger
Power to be measured
1200 W (Standard for 100 V), different power specification available for 200 V mixers
Voltage to be measured
100-110 V or 200-240 V AC, 50/60 Hz
Sampling interval
10, 20, 50, 100, 200, 500 msec, 1, 2, 5, 10 sec
Max sampling points
65,000 points
Power specification for Versa-Logger
100 V AC, 50/60 Hz, 20VA, *Contact if different power spec needed
Interface cable
USB
Software
Running on Windows XP/Vista (32 bit)
Composition
Main unit including a power meter, A/D converter, and USB interface
Software: Windows XP/Vista, .NET framework 2.0 or later
200g mixer (optional): Swanson-type mixer manufactured by National MFG (TMCO)
Water-jacketed mixing bowl (optional): Specifically designed for the 100-200 g Swanson-type mixer
Cooling circulator (optional): AB-1600 SuperStat Mini for cooling dough in the mixer bowl
Minimum requirement for PC (optional): 1.5GHzCeleron (Core 2 Duo or later recommended), 1GB RAM, 10MB HDD at least, USB
| Code No. | Description | Unit |
| --- | --- | --- |
| 4101701 | AF-1700-V1 Versa-Logger for 100 V mixer | 1 set |
| 4701702 | AF-1700-V2 Versa-Logger for 200 V mixer | 1 set |
| 4173056 | National MFG 100-200 g Mixer | 1 set |