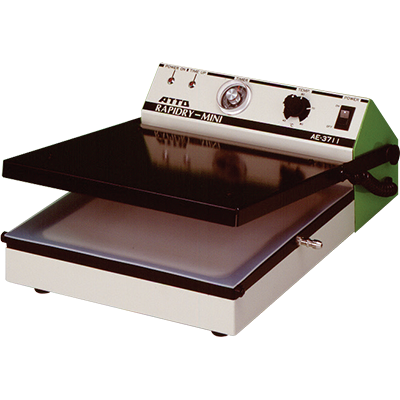 It dries gel dyed with pigment to store as a specimen or dries RI labeled samples for RI detection of electrophoresed gel. 
4 sheets of mini slab gel that can be accommodated in the heating area may be dried at a time
AE-3711 RapiDry mini
Gel accommodation area
200 x 190 mm
Heater temperature
40 to 80℃, adjustable
Timer
up to 180 min
Materials
Heat panel: fluoroplastic-coated aluminum
Support screen: Stainless steel
Porous sheet: Polyethylene
Seal cover: Silicone rubber
Power requirement
AC 100 V ± 10 V 50/60Hz
Dimension
240 (W) x 350 (D) x 135 (H) mm
Weight
2.5 kg
Components
RapiDry mini main body 1 ea, Seal cover 1 ea, Porous sheet 1 ea, Support screen 1 ea, Spare fuse 5A 2 ea, Connection tube (φ7 x 13 mm, 2 m) 1 ea
AE-3711 RapiDry mini requires vacuum equipment such as a vacuum pump or a water aspirator that affords about 20 mmHg residual pressure. To protect a vacuum pump against heat, interpose a cooling trap between the pump and the dryer.
| Code No. | Description | Unit |
| --- | --- | --- |
| 2385210 | AE-3711 RapiDry mini | 1 set |
| 2398006 | Seal cover 2/pk | 1 set |
| 2398008 | Porous sheet 3/pk | 1 set |
| 2398009 | Support screen | 1 ea |
| 2398790 | Connection tube (φ7 x 13 mm, 2 m) | 1 ea |
| 2391107 | Fuse 5A, 5/pk | 1 set |
| 2398037 | Precut Cellophane (230 x 240 mm) 250 sheets/pk | 1 set |